Advanced Business Roundtable
Advanced Business Roundtable
Categories
Business Services Networking Group Consultants & Coaches
*RACC Business Membership (Renewals)
About
How ABR is Different
If you've been in the typical business roundtable or business networking circles (BNI, LeTip, Vistage, Successful Thinkers, uLink, chambers of commerce, MeetUps, etc.), you'll discover that they all have excellent characteristics. ABR combines several great aspects of these clubs into a dynamic process.
Here is how we're different than most business networking organizations:
Membership Costs are Far Lower
There's a one-time membership fee of $100 and the quarterly dues are only $50. That's it! No hidden costs, no fines, no pre-purchase of meals.
Most business networking or business roundtables will cost you thousands of dollars a year and the lower-priced groups are at least many hundreds of dollars. Our Return On Investment (ROI) is solid.
Christian Business Owners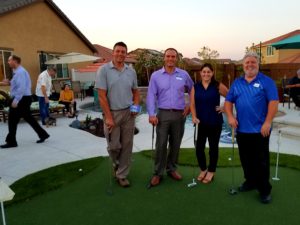 We cater to Christian business owners and seekers.
While we never expect a member to pray, the group always takes prayer requests (business or personal) and someone volunteers to pray for our requests.
It's not forced, it's not awkward or preachy, and it's not denominational. It's one way we love on each other and support each other.
Practice that Elevator Pitch
We always go around the room, introduce ourselves, and give our "elevator pitch," commercial, or state what type of business referrals we're each looking for. This is not only great practice, but it continually reminds the team what each of us does and how we can best serve each other.
Sometimes we'll add a fun twist depending on the mood of the timekeeper (e.g., "Also tell us what you did at your first job").
Lead Generation
We pass leads to each other because we are each other's marketing team. It's not forced or fined, but it's often a natural result of building relationships in the group.
If you're coming "only" to get leads, you will realize that it's not the focus, because it's far more than that.
We have an easy-to-use online lead giving system so we don't have to pass around lead forms or manually track statistics. The total dollars that are brought into the group every year are significant.
Business Presentations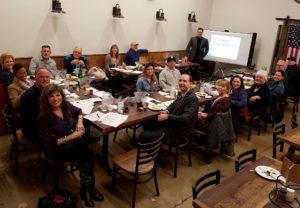 We sign up and take turns (not forced) giving presentations about ourselves and our businesses. This is good practice but the gold is what happens after the presentation.
We listen intently and when the presentation is over, we give gentle and very helpful feedback on the presentation (what went well, ways to improve, other suggestions). And even better, we always offer ideas on how the speaker can grow their business.
Business Improvement and Tips Presentations
We listen to business improvement presentations, tips, hot seat discussions, and techniques that business owners want to learn about. Often, our own members will do the presenting but we'll occasionally bring in an outside speaker. We also have interactive roundtable discussions on selected topics (e.g., most effective marketing strategy in your business).
The Roundtable: What Went Well This Week and What Didn't
We discuss what went well recently and what didn't go well. During the business roundtable, we share in an environment of confidentiality and trust because sometimes we open our hearts to the group. We are among friends. This business roundtable draws us closer as colleagues and friends.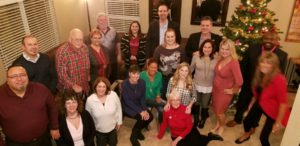 We Socialize!
Besides eating together, we have open networking time during each meeting to get to know each other better. Laughter occurs regularly.
Occasionally we'll have an optional outside social event, holiday party, client appreciation event, etc.
Images
Membership Type
*RACC Business Membership (Renewals)